PulseDAO, an interchain incubator and DeFi powerhouse is proud to introduce its groundbreaking crypto token, Pulse Dao (PLSDAO). Symbolized as PLSDAO, this innovative token aims to revolutionize the blockchain industry by bridging the gap between prominent L1/L2 blockchains and their project pipelines.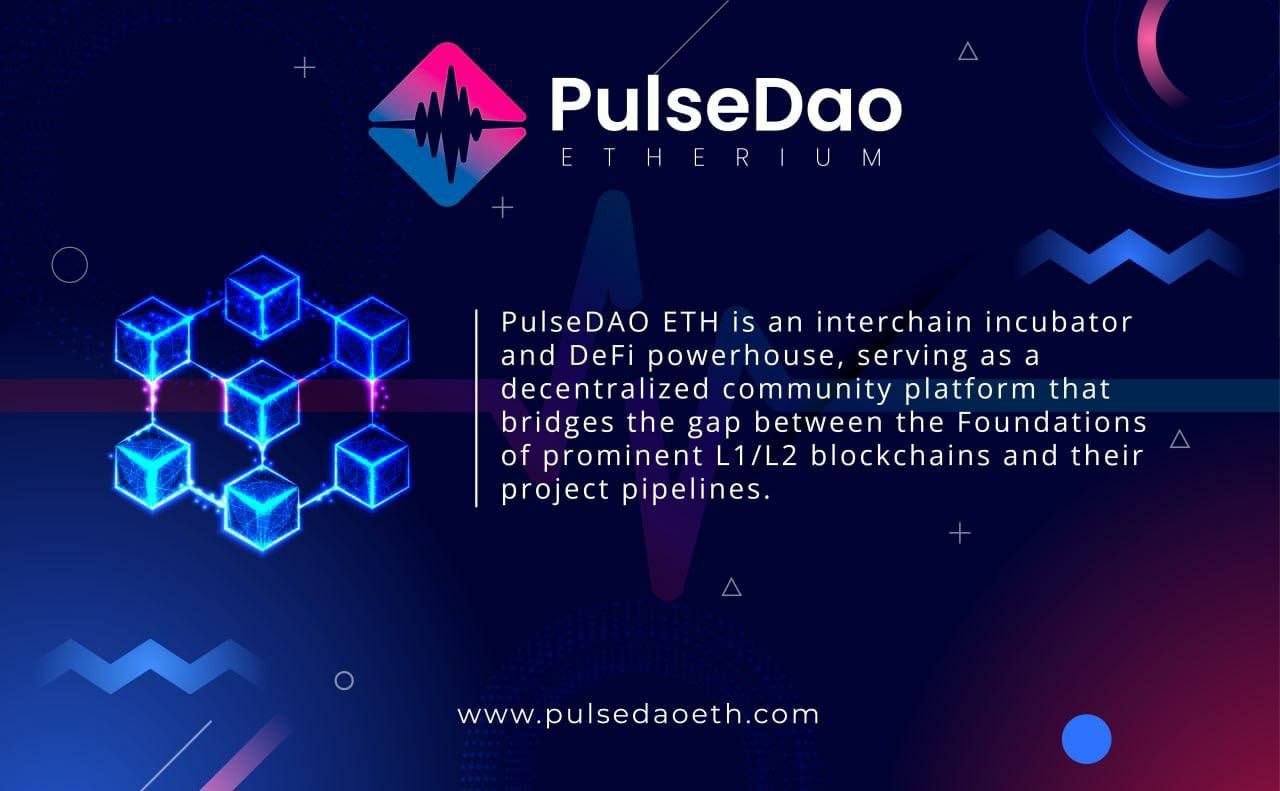 By leveraging the strengths of various blockchains, PulseDAO provides a robust environment for developers, entrepreneurs, and visionaries to bring their ideas to life. Through their interchain incubator, they offer a nurturing space for promising projects to grow and thrive, providing essential support, resources, and mentorship to help ventures reach their full potential.
"We envision a future where blockchain projects seamlessly collaborate and thrive, breaking down barriers and fostering a new era of decentralized possibilities." said the Spokesperson of PulseDAO
With three major motives at its core – Bridging the Gap in Blockchain Ecosystems, Empowering Decentralized Finance and Innovation, and Collaborating for Exposure and Opportunity – PulseDAO is committed to creating a dynamic and inclusive ecosystem that encourages cross-chain collaboration, drives the adoption of decentralized applications (dApps), and shapes the decentralized economy.
PulseDAO is actively seeking collaborations and partnerships with prominent L1/L2 blockchains, developers, and blockchain enthusiasts who share their vision of a thriving interchain future. By joining forces, the company can collectively drive innovation, foster growth, and unlock the full potential of decentralized finance.
These initiatives are driven by PulseDAO ETH's commitment to fostering a vibrant and inclusive ecosystem that encourages cross-chain collaboration and accelerates the adoption of decentralized applications (dApps). With its comprehensive suite of services, PulseDAO ETH is poised to disrupt the way the blockchain industry works and shape the future of interchain innovation and DeFi excellence.
To learn more about Pulse Dao (PLSDAO) and its potential to transform the blockchain industry, users can visit the official PulseDAO website and its whitepaper, which provides in-depth insights into the interchain incubator and DeFi solutions. For updates, follow PulseDAO on Social Media:
Twitter: https://twitter.com/pulsedao_
YouTube: https://www.youtube.com/@Pulsedao_/featured
About the Company:
PulseDAO offers a comprehensive suite of services through its all-in-one platform. Users can access features such as token swapping, asset bridging across blockchains, staking and farming for passive income generation, participating in the launchpad for new projects, and engaging with Non-Fungible Tokens (NFTs). The platform is designed to provide a seamless user experience and cater to the diverse needs of the blockchain community.